The MEC Event Seat addon is a great tool for booking event seats. If you want to give your guests the option of picking their spot in the venue, this addon is made for you. Whether you're hosting a seminar, play, or concert with multiple rows or circular tables, this addon allows users to select their preferred spot in the venue. Not only that, but you can also create a customized venue plan and choose from a variety of ready-made layouts to make the process even easier. Give your guests a seamless booking experience with MEC Seat.
Installation
In order to install the addon, please go to your WordPress Dashboard > Plugins > Add New and upload, install, and activate the addon.
---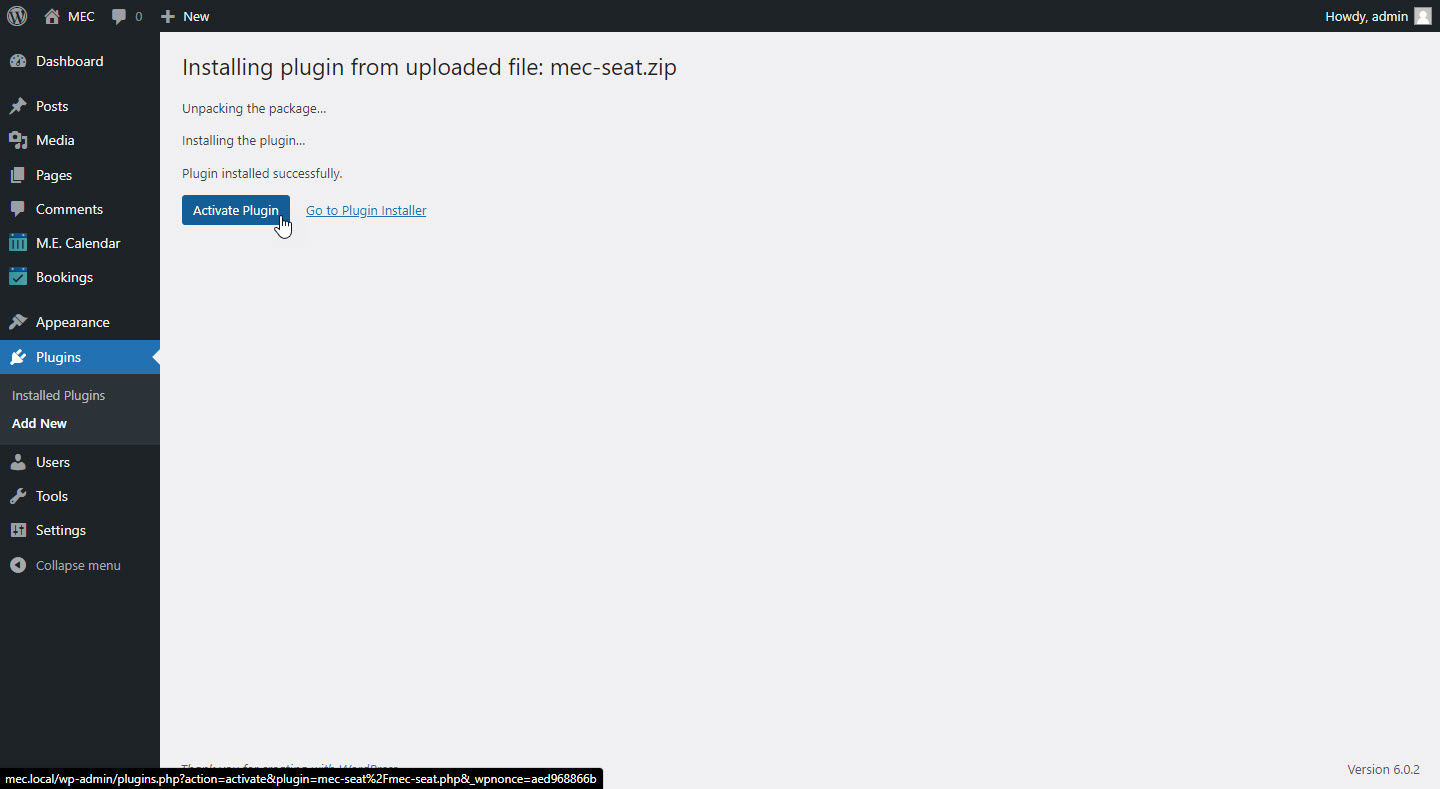 Now that the Seat addon has been activated, please check if the MEC Booking system is activated on your website by referring to the article below:
https://webnus.net/dox/modern-events-calendar/add-a-booking-system/
Using Seat Addon
Once you have verified that it is activated, go to your WordPress Dashboard > M.E. Calendar > Settings > Seat and check to enable the seat module, then save the settings and reload the page for Seat settings to become available.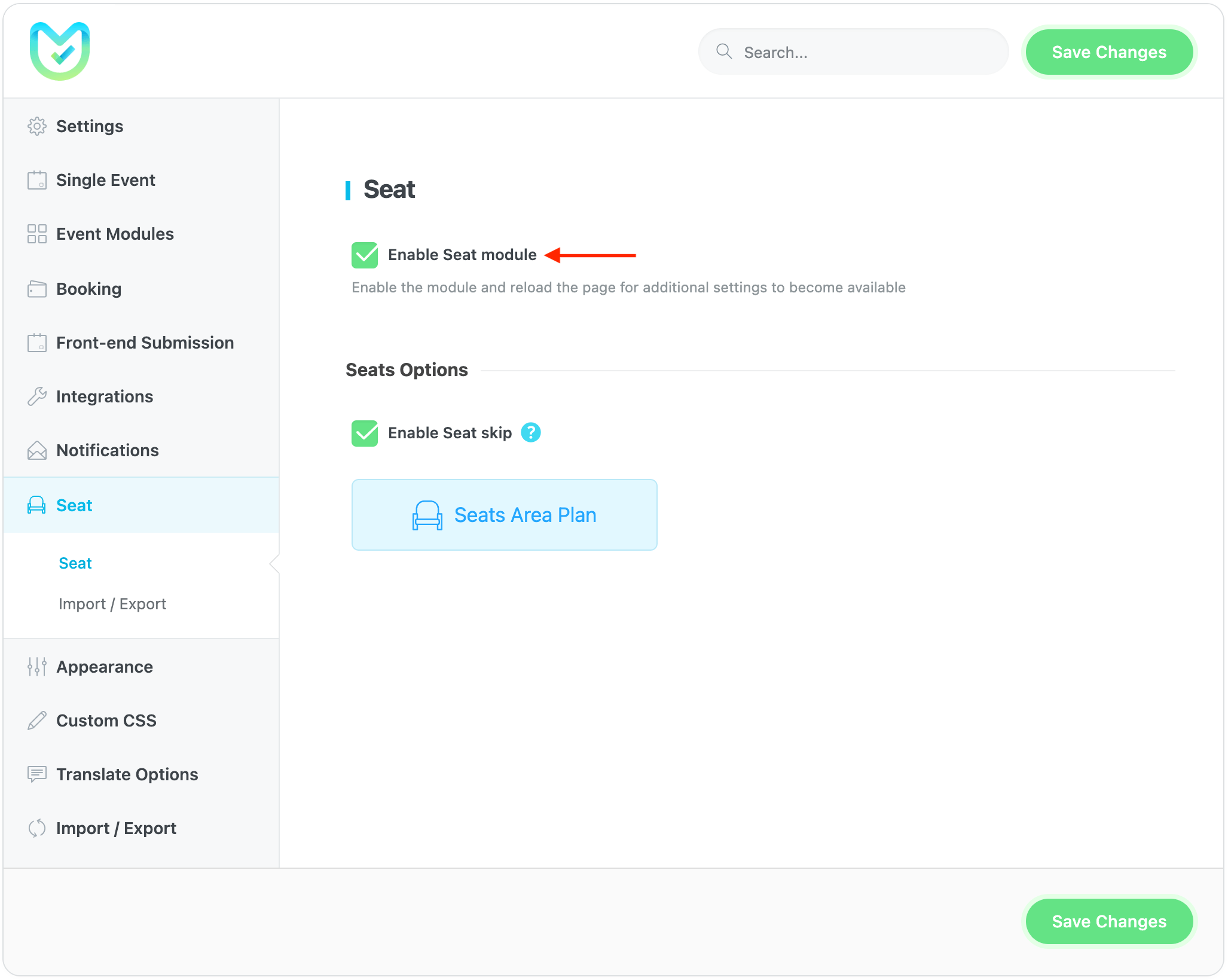 Enable Seat Skip: Users can enable Seat Skip when booking, allowing them to register without selecting a seat.
Creating Seats Area Plan
Click on the Seats Area Plan button to create your first Plan. On the right side of the opened pop-up, we can create different areas by filling out a simple form, and a preview of the created plan will appear on the left side.
With Seat Addon, you have the option to create two types of areas: Line and Circle.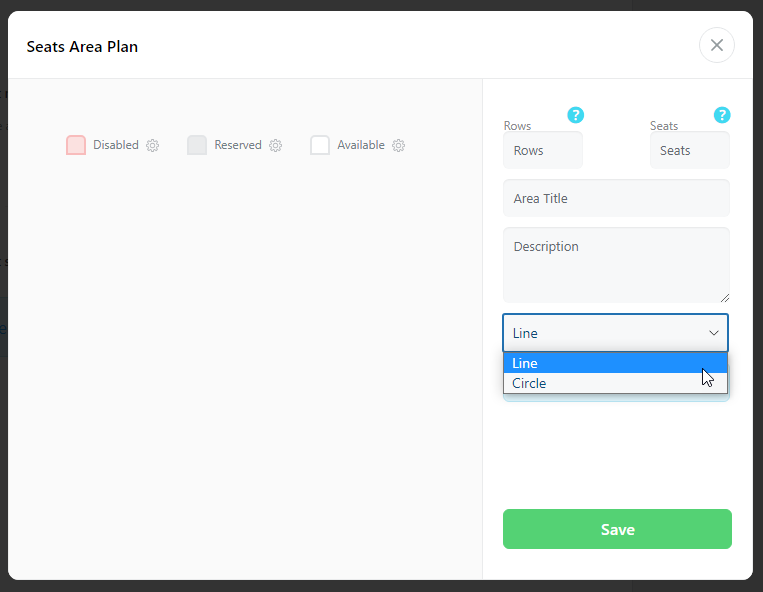 Let's create a plan together that includes two areas. The first area, named "SPECIAL," will have three rows of seats with 20 seats per row. Fill out the form and click "Add Area."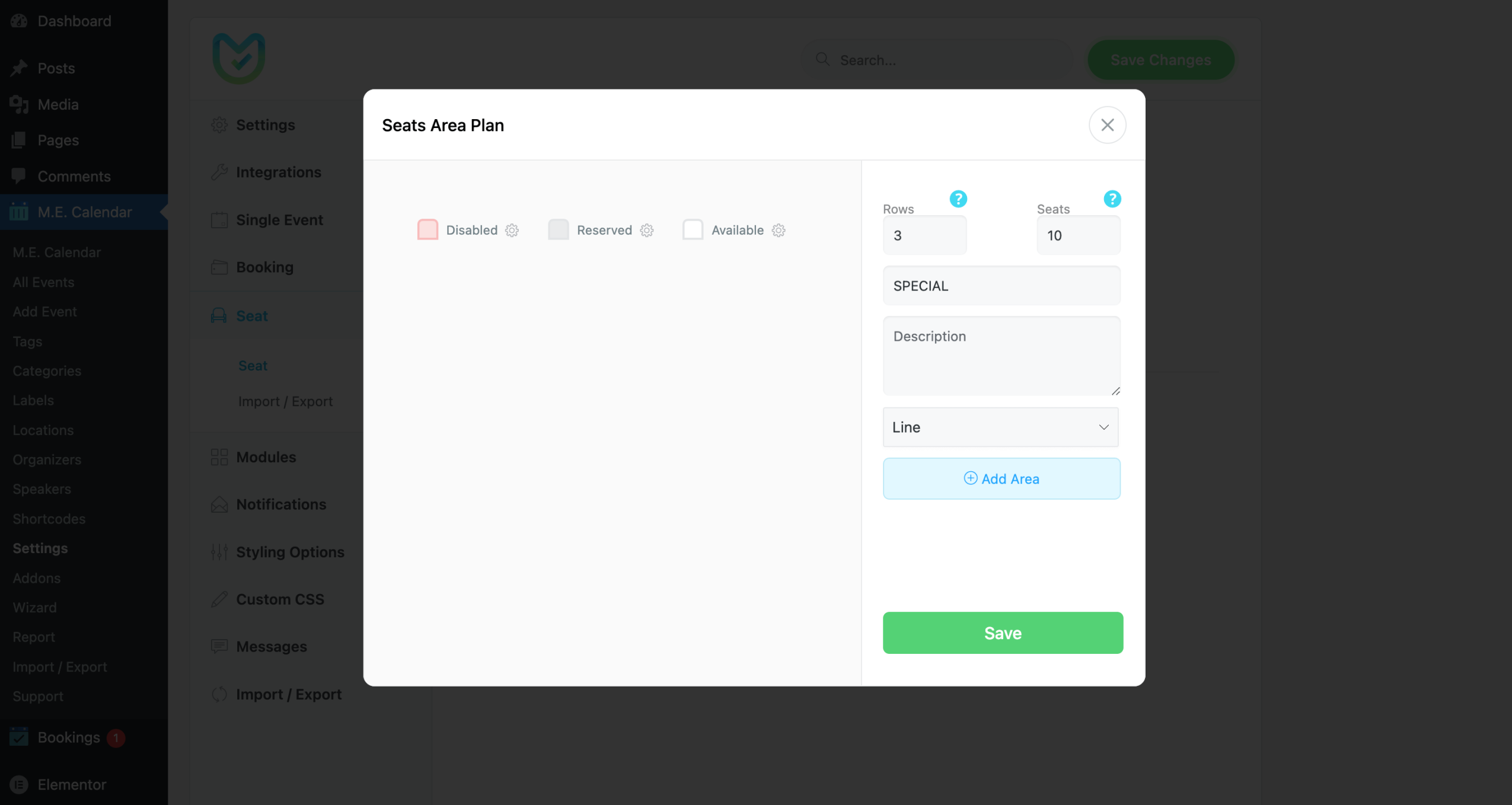 Here is a preview of the first area: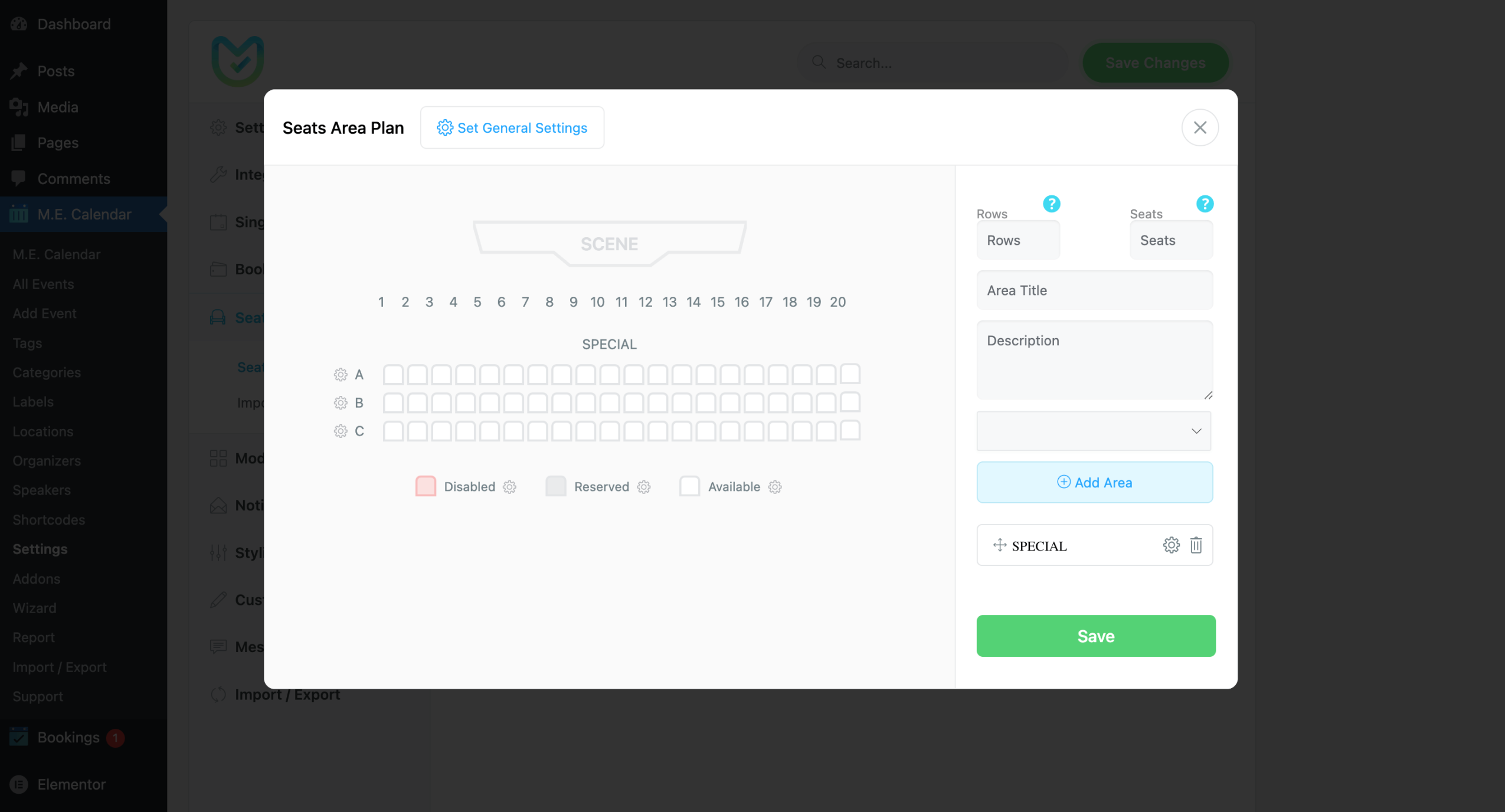 Now, include a new section called "EXECUTIVE" with five rows, each containing 20 seats.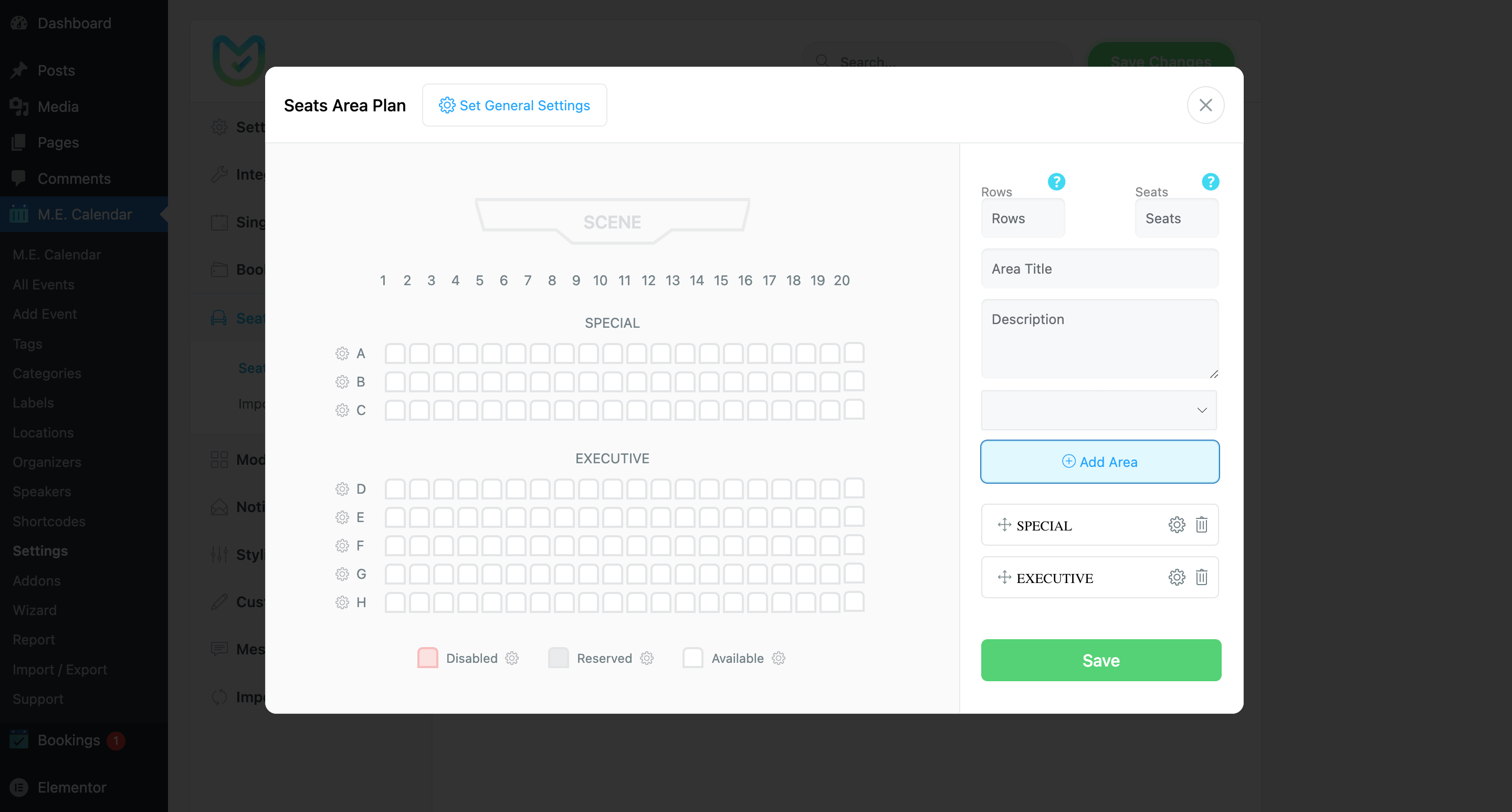 Our plan's overall structure is complete, though configuring your venue's seating arrangement may not be straightforward. You may need to remove certain seats or take into account reservations made by other participants. You can customize each seat individually by clicking on it to access its settings.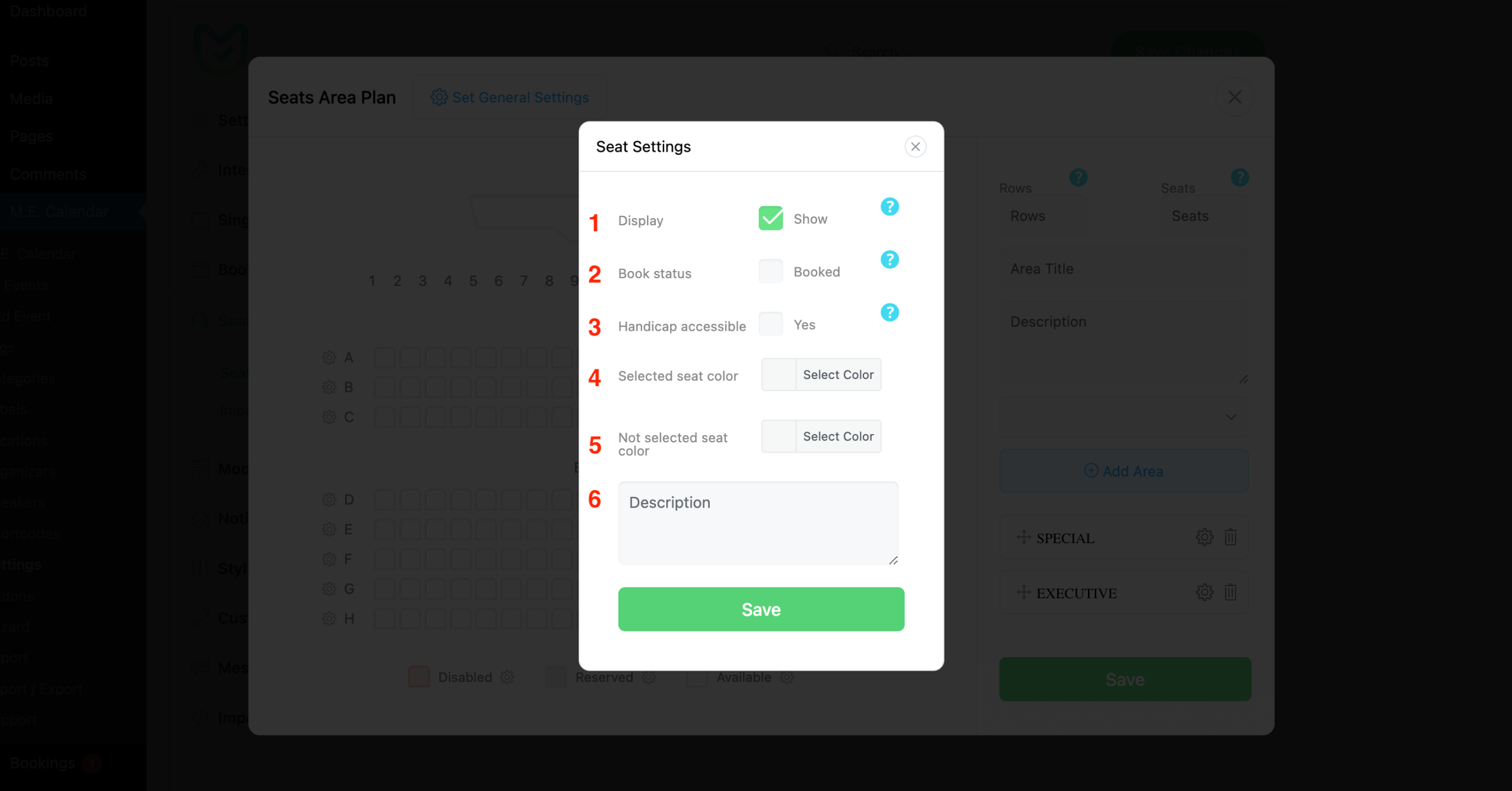 Display: Either show or hide this particular seat.
Book status: Check if this seat is booked.
Handicap Accessible: Whether this Seat is accessible for individuals with disabilities.
Selected Seat Color: Set a custom color for the selected particular seat
Note Selected Seat Color: Set a custom color for the not selected particular seat
Description: Enter the seat description to note the users.
The same options are available for each entire Row. You need to click on the gear icon next to each row so you can configure it.
In the seating plan, the red area is currently inaccessible, and some seats are already reserved (grey ones). The seating arrangement has been finalized as follows: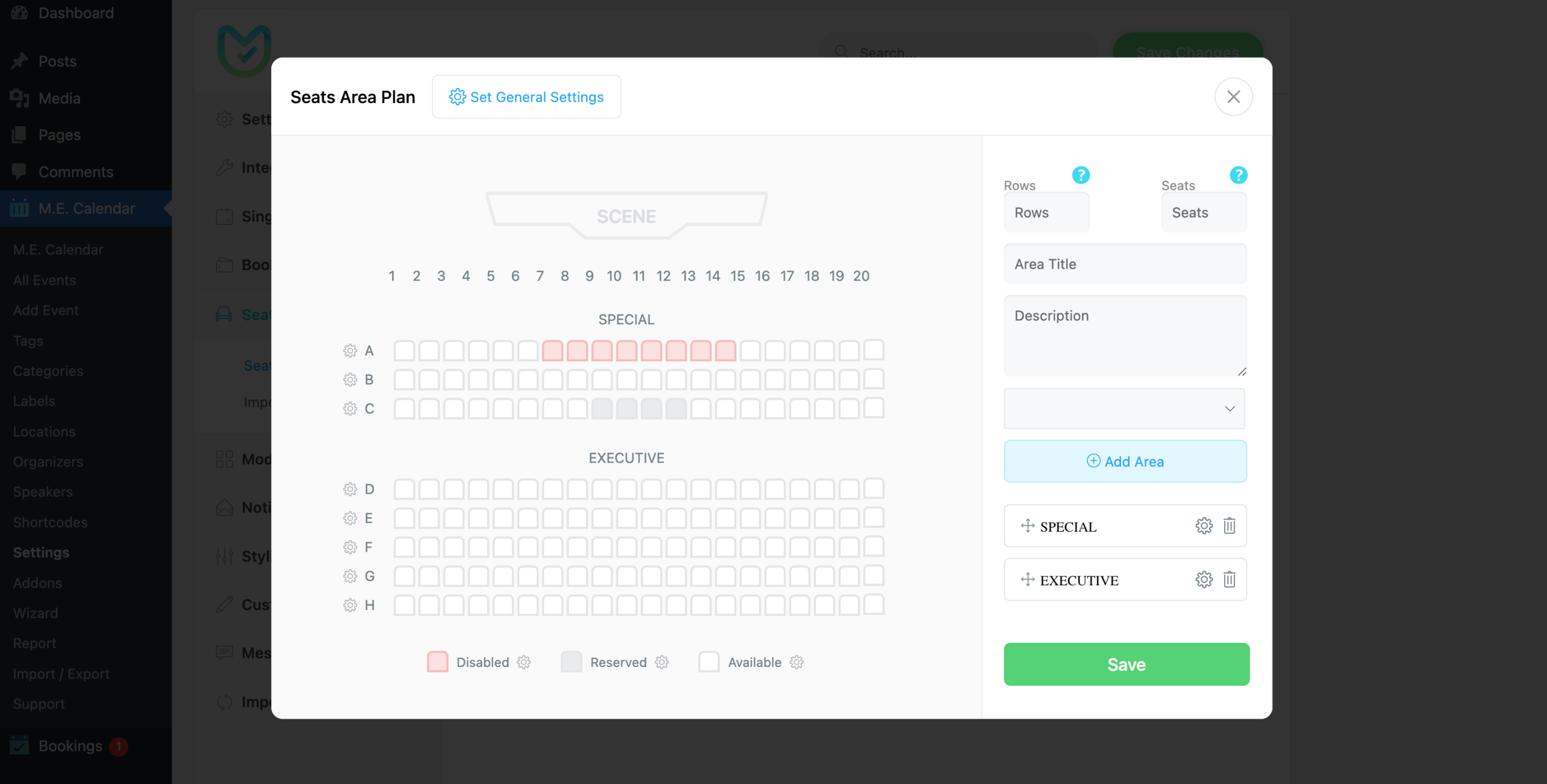 Once you have completed the design of your seating arrangements, it is advisable to save the settings and enable the seat module for each individual Event. You can use the default pattern or create a unique design for each event.
Using the template plan for events
To utilize the event plans, navigate to the edit page of the specific event and activate the seating option located in the corresponding section.

The plan will now be accessible to users, allowing them to choose their preferred seat during the booking procedure.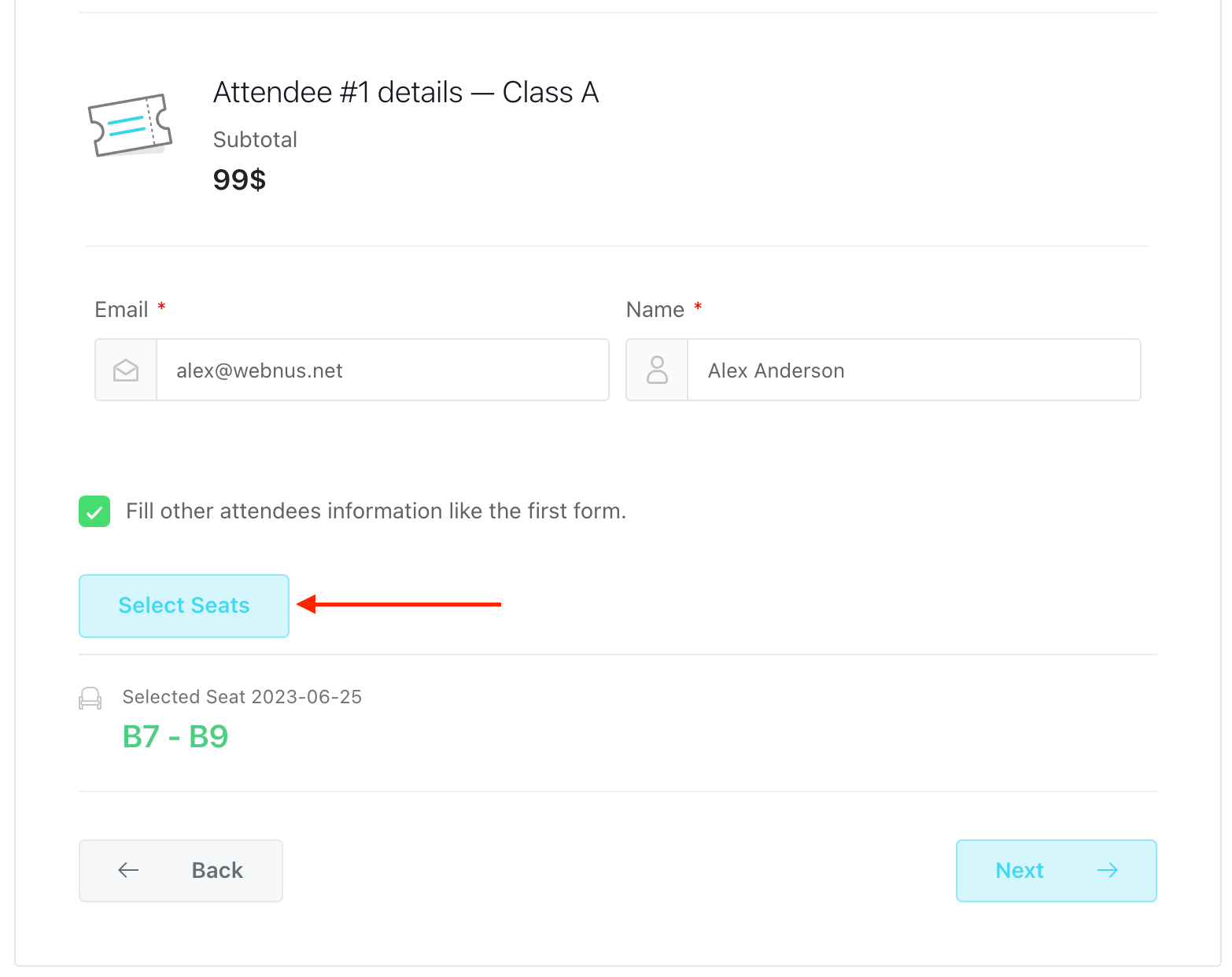 Create a circular table with Seat Addon
Using the MEC Seats Addon, you can easily generate an area plan that accommodates a specific number of circular tables. This plan is ideal for a variety of events, including ceremonies, churches, and more.
To use this option, simply choose the circle in the seat type of your venue.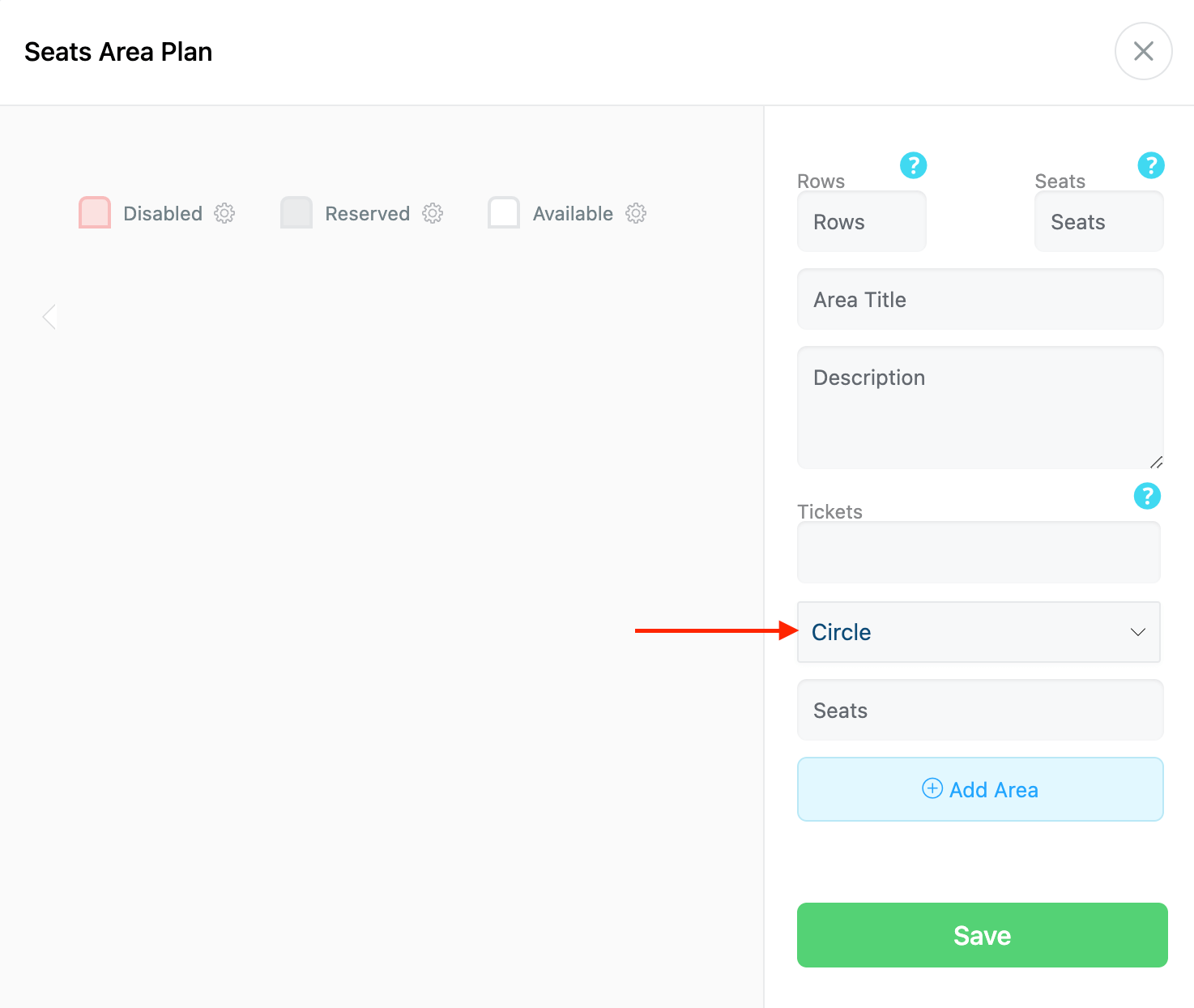 Now, With this feature, you can create tables with varying numbers of guests seated around them.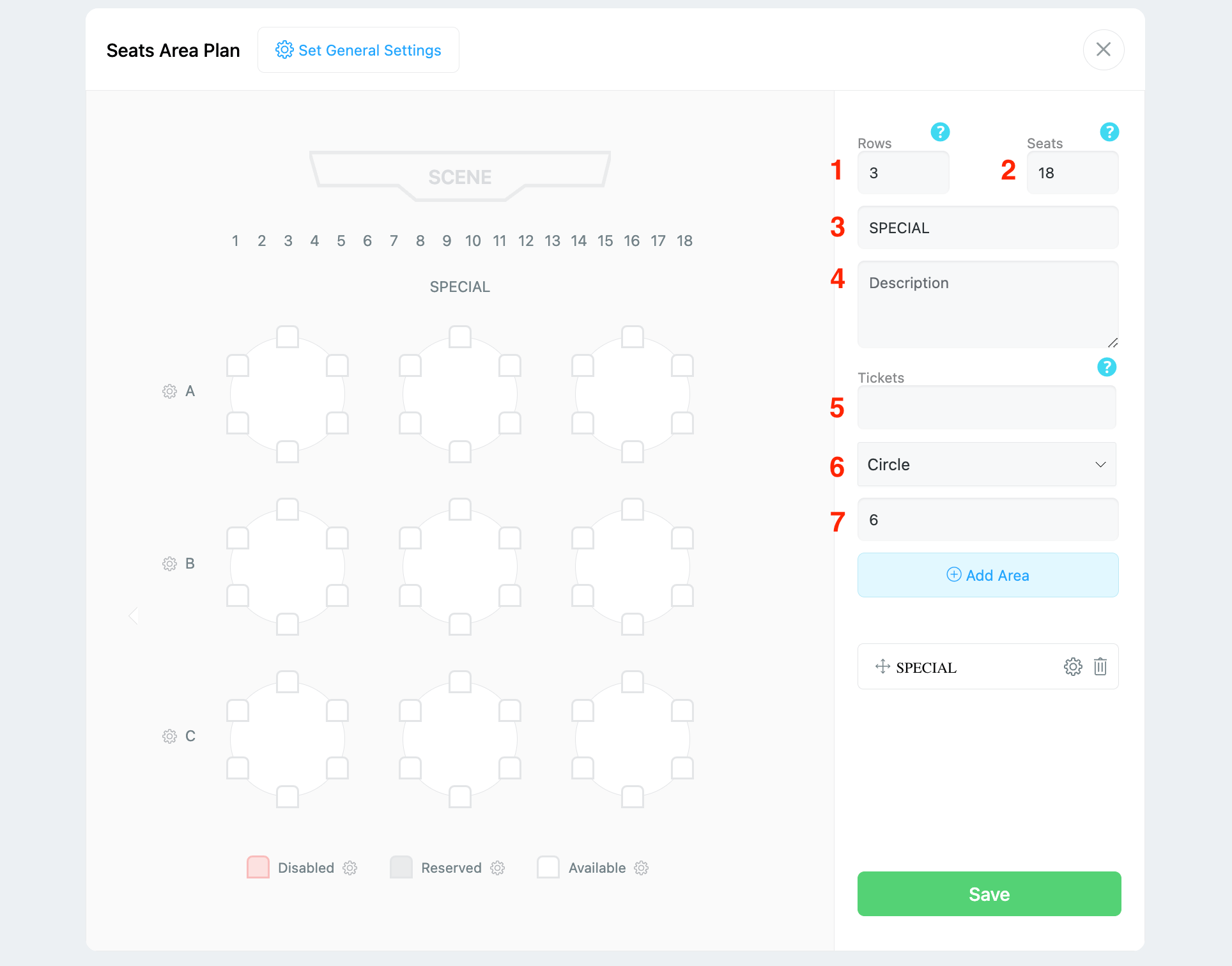 Rows: Number of rows to display the tables.
Seats: Total number of Seats in a row.
Area Title: Title of each designed area.
Description: Additional description for the area.
Tickets: It is possible to choose the type of tickets assigned to the table.
Seat Type: Choose Line or Circle type.
Seats: Number of available seats at each table.
To save your settings, simply click on the "Add Area" button followed by the "Save" button.
In this particular example, there are 54 seats in total, divided into three rows. Each row consists of three tables, with each table accommodating up to six individuals.
Creating individual plans for each event
If you need to use different plans for each event, you can disable " inherit from global options" from seat options and create a new plan. All the options are also available in the following section: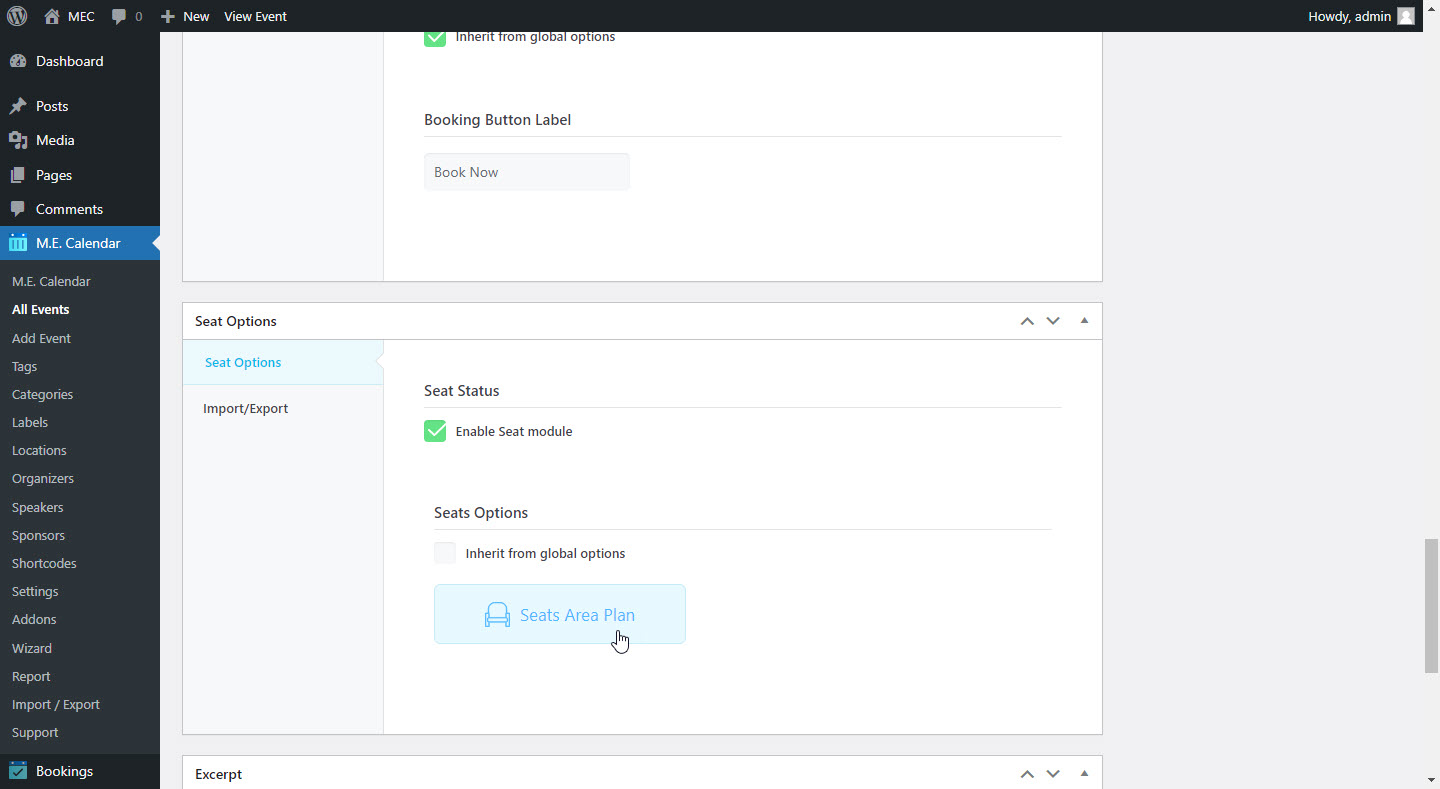 Assigning area to a certain ticket
The first event ticket will be bookable through the whole seat area plan by default. But if your event offers different tickets, and you want to have different prices for each certain part of your area, you can assign each ticket to the individual seats or the rows.
Important Note: In order to use this feature, you need to create the plan for each event individually. But you can use the global plan, too by importing the JSON code to this particular event. To do this, you need to export the global plan from MEC Settings > Seat > Import/Export and import it to the event edit page > Seat options > Import/Export.
After importing the global plan or designing the individual plan for the event, there are four methods:
Assigning the whole plan to a certain ticket: Click on General settings and set the ticket option for the desired ticket from the single event edit page > seat options.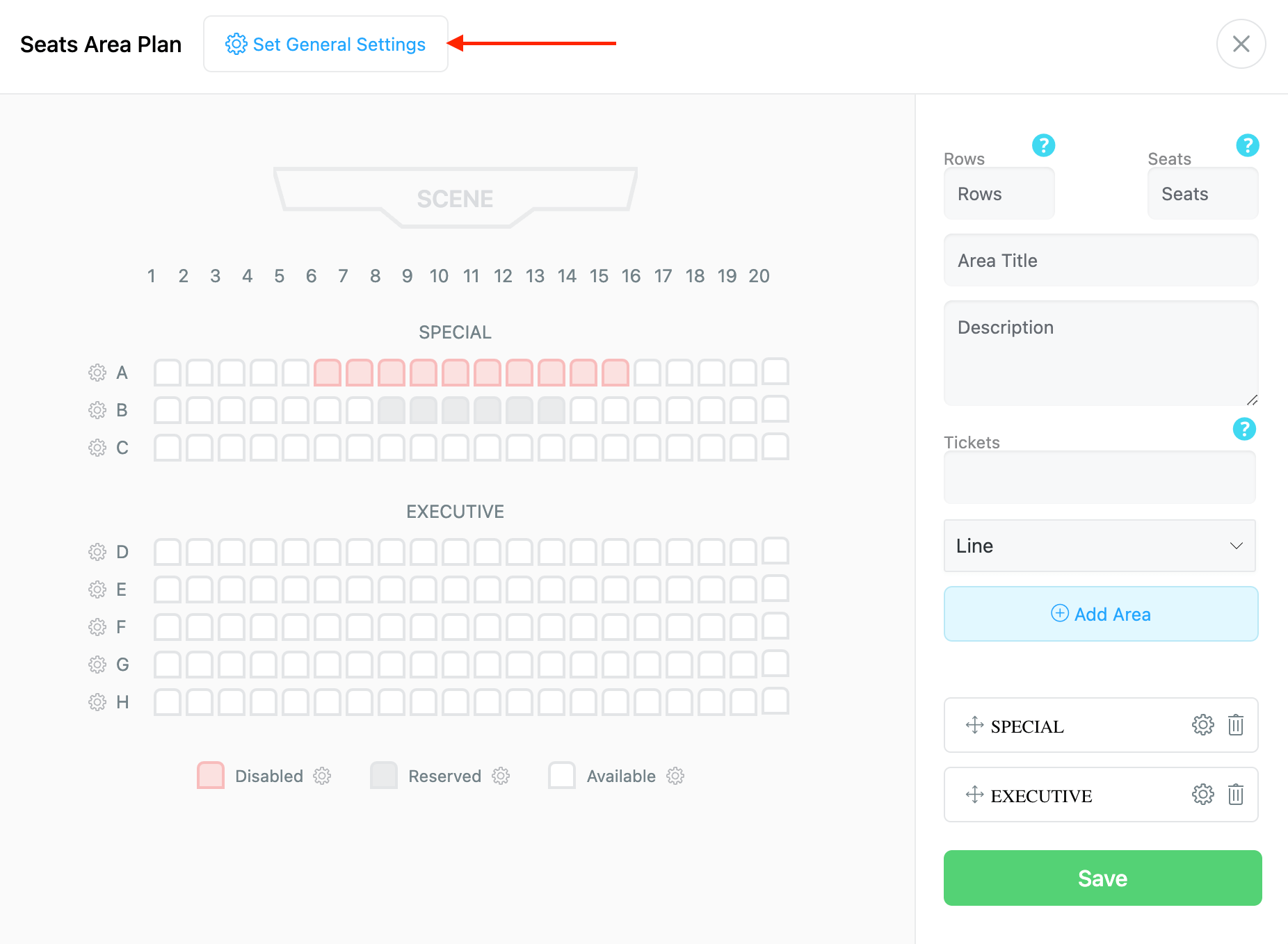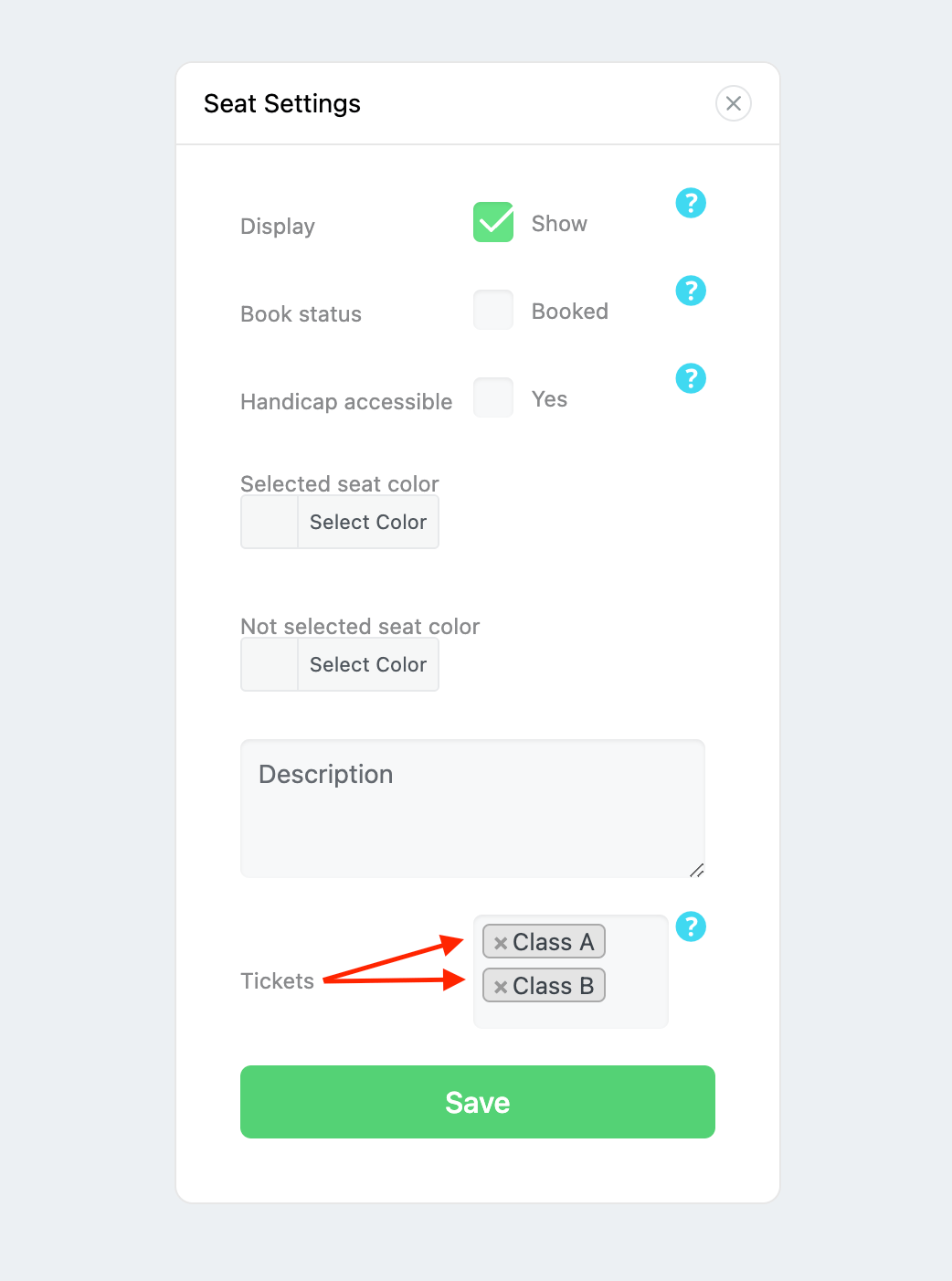 Assigning a specific ticket to a particular area: When creating a new one, you can assign a particular ticket to that area. This example shows that the "SPECIAL" ticket has been assigned to the "SPECIAL" area.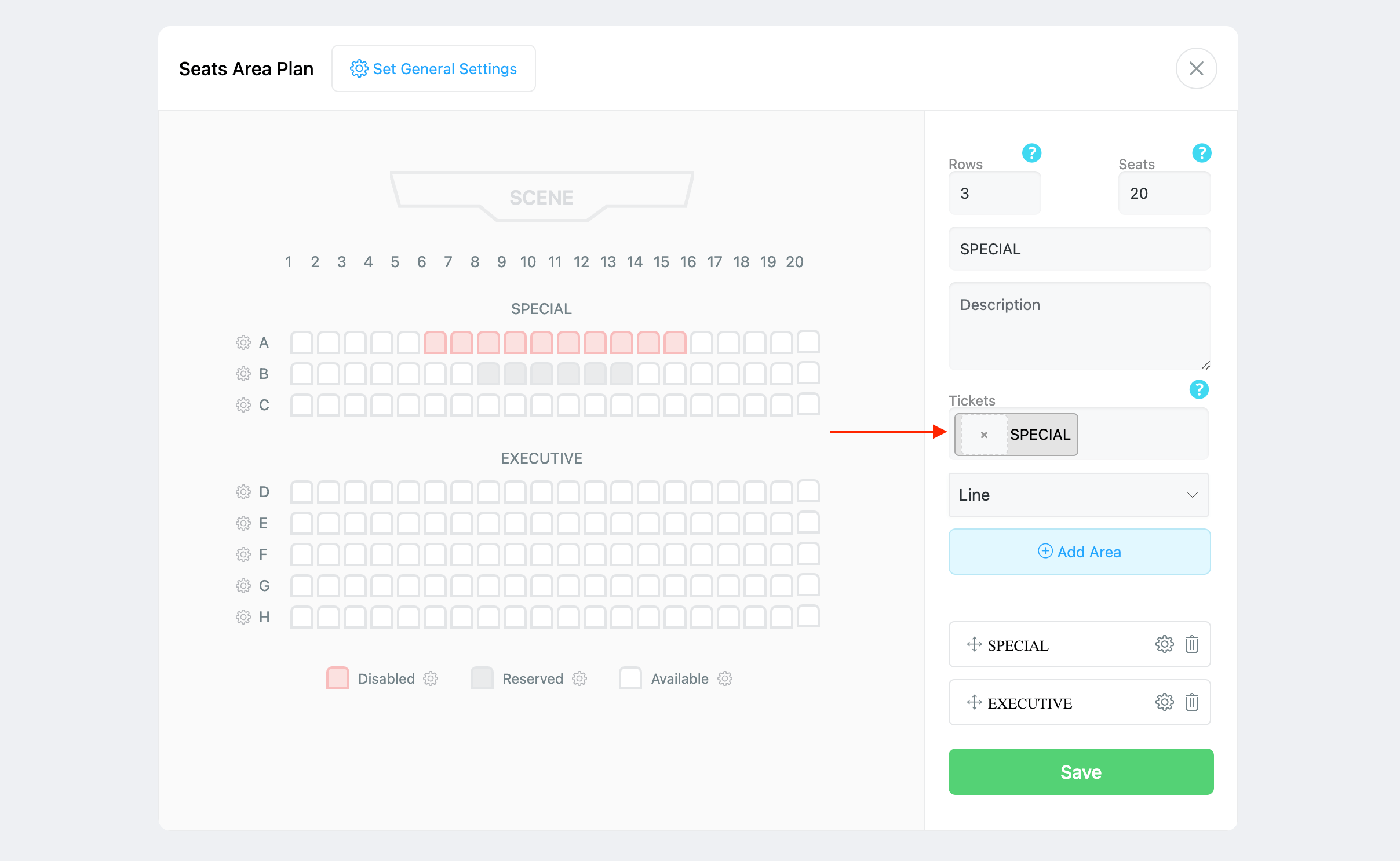 Assigning one or more rows of a plan to a certain ticket: Click on the gear icon next to the desired rows in your plan to open up the settings page. Now you can set the option for the desired ticket.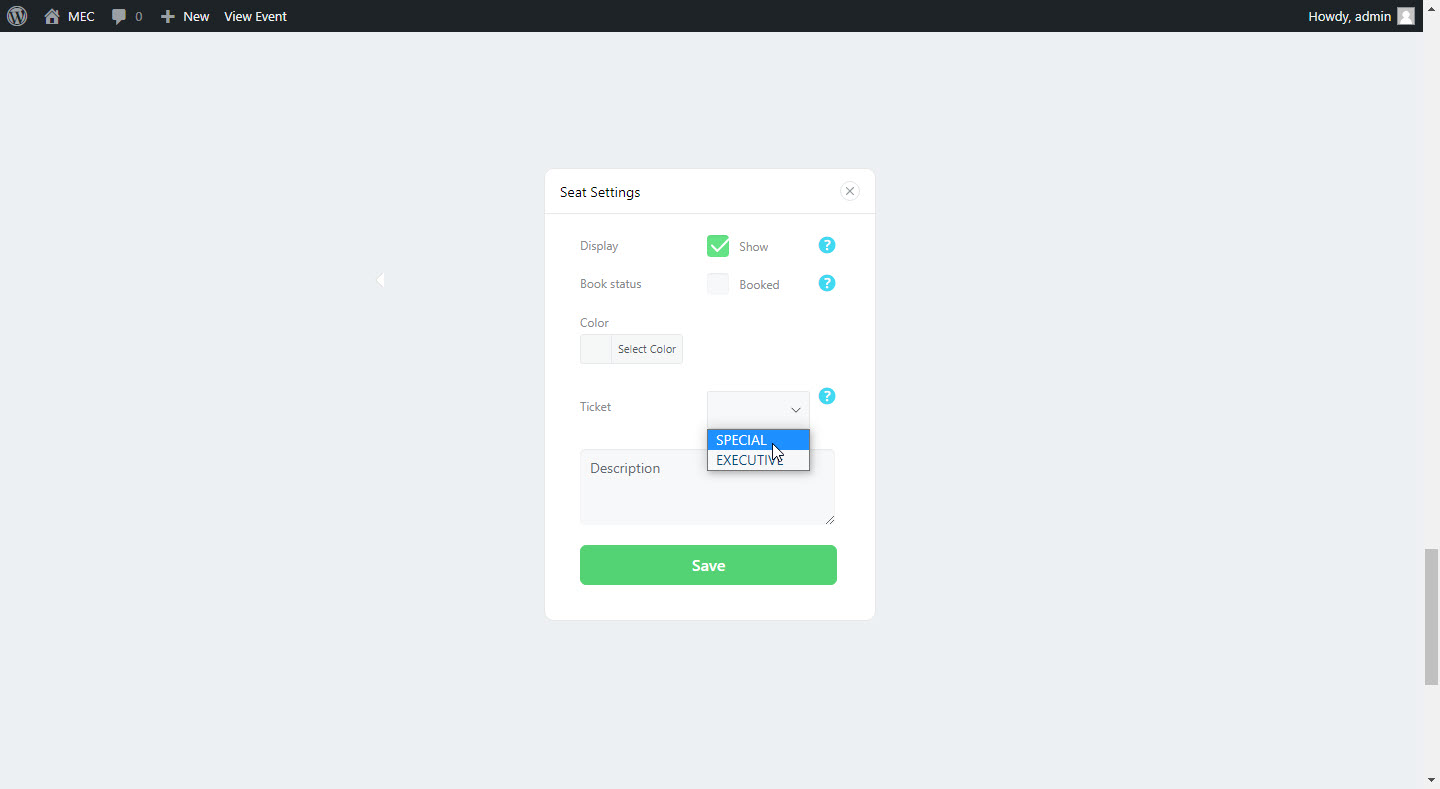 Assigning single seats to a certain ticket: You need to click on the seats you want to assign in your plan to open its settings page. The settings page looks exactly like the previous methods, and you should set the ticket options for the desired tickets and save them.
Now your participants can only book the tickets you have picked for the seats that you have designed.
Import/Export
It is possible to export the created plans to a JSON file and import them both in MEC Settings > Seat > Import/Export and in Event add/edit page > Seat Options > Import/Export. Therefore, transferring global plans to individual event plans and vice versa is possible.
The seat numbers of the registered bookings
The booked seat numbers will be displayed in the registered bookings. Please take a look at an example in the screenshot below: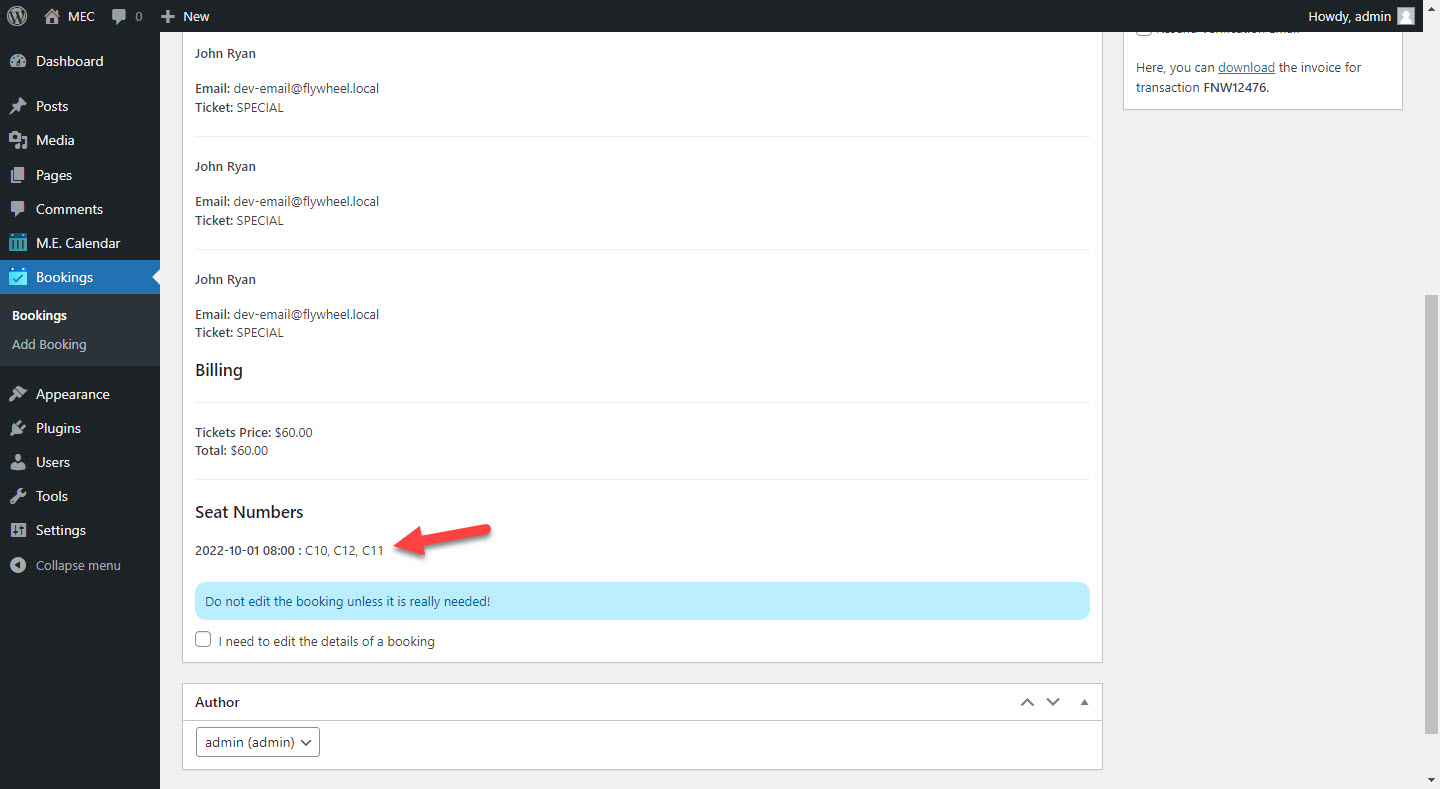 Notification email placeholders
In order to inform users of the booked seat numbers, this placeholder, %%seat_numbers%%, will be added to these notification emails: Booking, Booking Confirmation, Booking Rejection, Booking Verification, Booking Cancellation, Booking Reminder, Event Soldout, Admin, Event Finished. You can easily show the booked seat numbers by including this placeholder in your email.